Breaking
: we're getting engagement photos taken the weekend of January 10.
Our photographer
includes them in her package, otherwise we'd probably skip them. Neither of us like the way we photograph, and we chose Julie because of how great her candid photos are at weddings - we think candid is the only way we look normal on film. In other words, January 10 could be a challenge.
We were going to be in the Outer Banks that weekend anyway to do a menu tasting at the
Sanderling
and select our food (fun!!!). Given how relatively difficult it is to get to the Outer Banks (which is also one of the reasons I love it so much), we might not make it back there before the wedding. So our one shot at engagement photos means a winter morning on the beach. At first, I wasn't thrilled about this. I'd imagined some sort of leggy, playful photo series (if one happened at all) that involved the two of us splashing around in the ocean on a warm day. Instead, the day will likely be freezing, gray, and we'll be all bundled up. But c'mon, scarves and rosy cheeks can be cute too, right? And let's face it, I live in jeans and sweaters, so why not document that?
To get in the spirit, I looked around for engagement photos shot outdoors in the winter. We're meeting at 10 in the morning on the Kitty Hawk Pier, and I want ideas before we get there! There really is some great inspiration out there... anyone have any more for me?
Original
:
Kate Headley
Our version
: Hanging out on the dock near the shops in downtown Duck?
Original
:
Joy Marie Photography
Our version
: Look, the two of us
know
how to make out under a pier. Consider this shot stolen.
Original
:
Anna Kuperberg
Our version
: Closeups of sweaters, sand on our backs? Totally doable. What a great twist on a winter beach shot.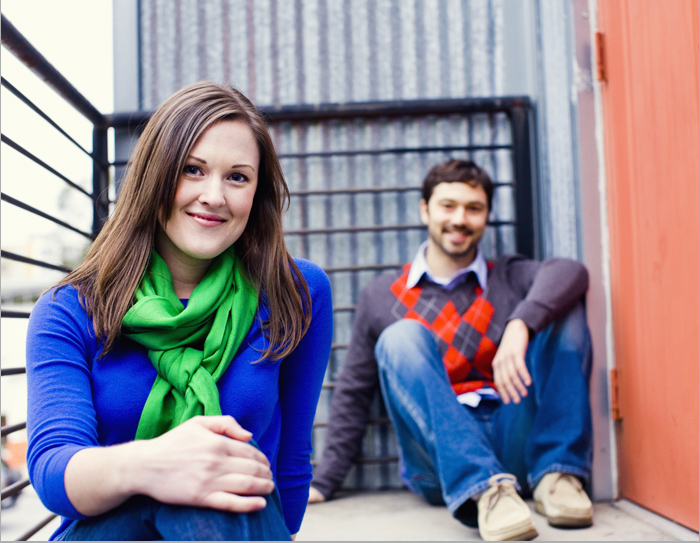 Original
:
w. scott chester
Our version
: Color! I love how brightly their clothes pop outdoors. I thinks this means I will be forced to wear my adorable red wool coat.
Original
:
Anna Kuperberg
Our version
: This photo could be taken anywhere, at any time. And I just adore it. Obnoxious stares and making each other laugh is totally us.
Original
:
Jenna Walker Photography

Our version
: Gorgeous winter sun? Fingers crossed!